The Eight Techniques of Writing A Good Essay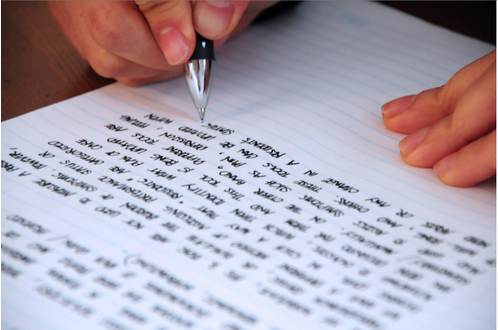 Click here to order your essay
Do you want to write an good essay and do not know where to start? Here are suggestions for you. You should look at them instead of worrying.
1-) Choose a topic
The subject is the essence of an essay. So the topic you choose represents your essay. İf you have already had a topic, you can start to think on it. Your topic may be so general, in this case you should subdivide it. For example; if your topic were "Spain", you could separate this topic into headings such as "the history of Spain", "places to visit in Spain" or "the life in Spain".
But if you do not have a topic, you should think of the areas which you are good at. You can choose one of them or another interesting topic. So you can even make your topic that is boring to others interesting.
2-) Read other people's essays
After the choice of the topic, you can start to search the details of your topic. For it, you can read the other people's essays. Reading other people's essays can help you develop and build on your own essay-writing style. You can see different introduced ideas and how the writer has supported their points with evidence.
When you read essays, be objective and consider the positive and negative sides of each ideas.
3-) Prepare an outline or schema of your ideas
In order to write an effective essay, you must put in order your thoughts. The easiest way to do this is to put what's in your head in paper. You prefer to write the title of your topic in the middle of your page and add positive ideas in the right side, negative ideas in the left side. So you can see easily the connections between the topic and your thoughts.
4-)Write your thesis statement
Thesis statement expresses the main ideas of your essay. So you should be careful when you choose the thesis statement sentences. Your sentences should draw the readers' attention. For you find a strong thesis statement, you can look your schema. What are the main ideas?
Thesis statement is about two things: your topic and the point of your essay. For example, if you were writing about smoking and the bad effects of smoking, an suitable thesis statement would be "There are many bad effects of smoking related to health, social and psychological level which can harm the life of a person in great detail."
5-) Write the introduction
The introduction in an essay is like a road map that shows the readers the directions of the main ideas. And it provides the readers the background information about your topic. So it should be interesting for the readers.
It contains the thesis statement and and 2 or more main ideas which will be explained in the body of your essay.
6-) Write the body
The body part contains sentences that support the introduction. İt lies between the introduction and conclusion. And it have topic sentence, supporting details and concluding sentence.
To write a body part, you can begin by writing one of your main ideas as the introductory sentence. And then you should write each of your supporting ideas. You can use transitions in this part, such as first…second…third, finally, moreover, previously, for instance, in addition, thus, consequently, as a result…
7-)Write the conclusion
Your essay is almost done. You have written about main ideas and have supported your sentences which is mixed with your research and your ideas. It's the turn to write the finish of your essay.
The part of conclusion partakes of summarizing your topic. So your conclusion part begins specific and moves to the general. İf you are difficulty in writing this part, you can use your introductory paragraph as a guide because a conclusion is the opposite of the introduction.
Also your conclusion part should include a brief summary of the main ideas, but should not repeat things that were in the paper.
Now readers have a result by reading a conclusion statement that sums up all the main points nicely.
😎 Revise your essay and don't be afraid to get help
Yes, it is finished but you should review it for your mistake and should make sure that your paragraphs have the correct order. You should read the text from the beginning and correct your sentences that include grammar mistakes and incoherency.
Don't be afraid to get help people you know. Your a mistake teach you a new thing. If you have difficulty in correcting your mistakes, you can receive help from your teacher, friends or another person you want.
Finally, rewrite reliably your essay.
Congratulations! You have just written a great essay.
Click here to order your essay
best body conclusion Essay paragraph statement team thesis Writing